Former Indian double Badminton player Jwala Gutta has always been in the news for her stunning looks if not for her sports skills. On Wednesday she again hit the headlines when she joined me too# campaign sweeping the entertainment and media industries. She took to social media to revealed that she too was harassed during her playing days. Though she did not name the person who harassed her she clearly is pointing toward national coach P Gopichand with whom she has had feud.
She wrote on twitter account: "Maybe I should talk about the mental harassment I had to go through…#metoo," she said. "Since 2006, since this person became the chief, he threw me out of the national team in spite of me being a national champion. The latest was when I returned from Rio. I was out of the national team again. One of the reasons I stopped playing!"
She went on to allege, "Since 2006…till 2016…have been thrown out of the team again and again and again..in spite of my performances…2009 I was back in the team when I was world no.9.," she said. "So when this person couldn't get through to me…he threatened my partners, harassed them, made sure to isolate me in every manner. Even after Rio, the one who I was gonna play mixed with was threatened. And I was just thrown out of the team."
Jwala Gutta was one of the best badminton players in the country who has won four Commonwealth Games medals in her career, including a finish atop the podium at Delhi 2010. The Arjuna awardee has also won a gold medal in the mixed doubles category at the South Asian Games in 2016.
However, Jwala Gutta is also famous for her film star good looks that make her a favourite with the fans. We bring you 5 little-known facts from the life of the badminton diva, who is often regarded as one of the best looking sportswomen in the country.
1. She Has a Cold War with Saina Nehwal
Saina Nehwal and Jwala Gutta, the two best players India has produced, did not often see eye to eye. Jwala felt that she did not get as much recognition for her efforts in the badminton court as Saina Nehwal. She had accused the Indian badminton authorities of giving her a 'step daughterly' treatment. In one of the most candid interviews, she even said that 'Saina is not the only hard working player', which made it clear that the two do not share the best personal equation.
2. She Believes in Dressing Well on Court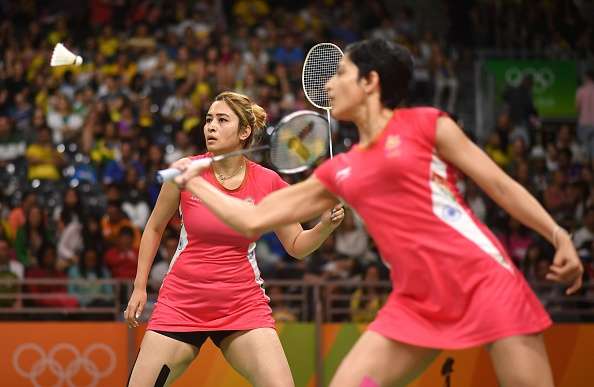 Usually, sportswomen do not care for their looks when they are playing but Jwala Gutta was someone who took great care of her looks even on the court. Her argument was that if a player dresses up well on the court then her confidence is usually enhanced since she is far more sure of herself. We surely agree with her. she was one of the classiest dressers on the badminton court and coupled with her looks she used to look stunning every time she stepped out on the court. During one of her interviews, she said, "I believe that most of the time, 'the first impression is always the last impression, and because I won't be meeting 90 per cent of these people all the time, so I have to make a good impression, I have to dress well and look good on court."
3. Jwala set the silver screen on fire by her item song
It was no surprise when Jwala Gutta was offered a role in a movie right from the time she became a well-known badminton player, she used to be showered with film offers. In 2013, she made her first appearance in a Telegu movie Gunde Jaari Gallanthayyinde in which she sizzled the screen in a revealing electric blue dress. She went big in 2014 by featuring in the Hindi movie Fugly that also featured boxer Vijender Singh.
4. Her "affair" with cricketer Mohammad Azharuddin
According to media in Hyderabad, Jwala Gutta had an affair with former Indian cricket team captain Mohammad Azharuddin. It seemed like an odd match considering the difference in their age but the grapevine was rife about Gutta's affair with Azharuddin that reportedly led to his divorce with second wife Sangeeta Bijlani. However, both parties denied the affair forcefully and stated that those were nothing but media created rumours.
5. Her mother is Chinese
Very few people actually know that Jwala Gutta's mother is actually Chinese. Her mother first arrived in India in 60's and following in the footsteps of her Gandhian grandfather and stayed in the Sevagram Ashram. She translated Gandhi's work in Chinese. she has not contemplated going back to her country of origin. The Chinese genes must have been one of the reasons why Gutta was such a brilliant badminton player considering the quality of players that originate from that country.
For more interesting stories download the Lopscoop application from Google Play Store and earn extra money by sharing it on social media.