Your username or email address

Log in
Enter the email address for your account and we'll send you a verification to reset your password.

Ever Thought Of Making STAINLESS STEEL SCRUB Jewellery? Well This Delhi Girl Have!

It seems like she has created a jewellery empire out of the trash

posted on 03/26/2019 12:22:34
From diamond studs in the ears to hanging pendant on the neck to a dazzling bracelet on the wrist diamonds have been women's best friend ever since and every woman adore it. Diamonds have been in trend ever since but with the concept of sustainable jewellery in the demand there have been quite fresh ideas keeping in mind the degraded environment.
One of such fashion Instar which has been quite popular with her quirky, wearable art collection made from disposable trash is Aakrati Sukhija. She launched the Mission planet to save the planet in 1993 to create awareness about recycling and reusing the trash disposable items from our daily life.
Her quirky jewellery is quite unique like her mission. I mean did you ever thought that you would use the scorch bite, used to clean your dishwashers in your jewelry. I am sure you would not have not even imagined wearing scorch bite in your ears or neck.
Not just that she uses material like washer pipes, matchboxes, used pen shells, plumbing pipes, scrubbing metal, mop heads and A/C filter foam for her trendy jewellery. She also collects these sources from garbage collectors for her mission to save the planet.
The way she deconstructs the discarded trash from the home and uses it as a piece of unique jewellery is quite refreshing. She also presented her jewellery pieces in one of the New York Fashion week which was applauded by everyone.
Have a look at some of her best quirky jewellery.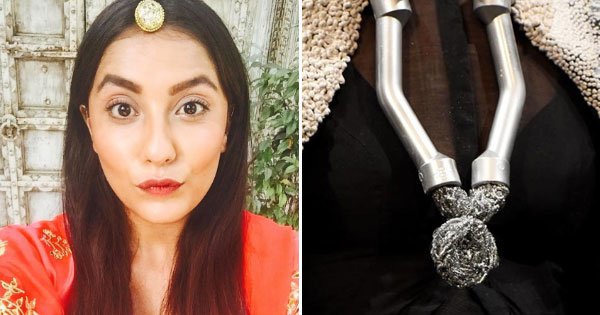 So are you also going to use your disposable trash before discarding from the house?
For more interesting stories, Download the Lopscoop application from Google play store and earn extra money by sharing it on social media.
Add you Response
㑼
Ever Thought Of Making STAINLESS STEEL SCRUB Jewellery? Well This Delhi Girl Have!