If you are a fan of coffee and particularly Starbucks, then you would be excited to know about the inaugural of the world's largest Starbucks store in Shanghai. The "Coffee Wonderland" spread over 30,000 square foot in the city's busiest shopping destination i.e. Nanjing Road makes it a great deal for the coffee giant. Moreover, there is more than just coffee within the 4-doors of the marvel.


China is one of the most important markets for Starbucks. China homes more than 600 Starbucks stores in Shanghai alone and the number climbs to a whopping 3,000 when you count the Starbucks stores across China. With that pace, the day is not far when China will overtake the U.S. as home to the most Starbucks on the planet.

The store can serve between 6,000 to 7,000 coffee lovers in a day and up to 1,000 customers on one go over food and wonderful coffee they serve. The customers on entrance are given an "exploration guide" so you do not get lost maybe when returning to your seat after an errand to the washroom.


The design of the store draws inspiration from the entrance to the Chinese temple. Each set of doors is sculpted with a roasted coffee bean, but at 550lbs each, you'll be glad to know they're hydraulically-activated.

As you walk in, a 40-ton copper cask welcomes you with the beauty that it beholds. It's covered in more than 1,000 traditional Chinese seals known as "chops," which relate the Starbucks story since 1971.


Long coils of copper piping known as "Symphony Pipes" criss-cross the ceiling of the engineering marvel. The pipe carries beans from the huge copper cask to the bars where they are added to your coffee. The pipes are named after the sound the beans make as they travel through the pipe.

Special care to subdue the acoustic in the ginormous setting has been given, using 10,000 tiles from American walnut. The interlocking shapes are all hexagonal, reflecting and resembling when an espresso "shot" gets locked into an espresso machine.


Apart from coffee, the store also severs beer, wine, and spirits. The upstairs bar even offers a craft beer made from Kenya, Columbia, and Guatemala coffees. Moreover, if your appetite is craving some delicious snacks then you can pop downstairs for pastries fresh out of the oven.

Maybe you fancy a smoked butterscotch latte? Or how about an espresso suspended above a chilled vanilla-bean breve -- known as an Undertow? Starbucks has got it all.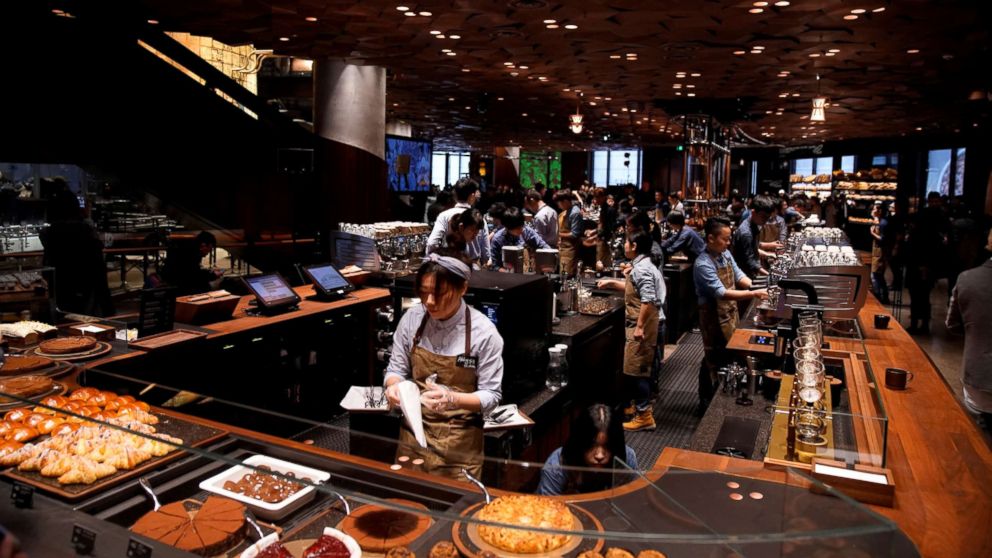 Not just this, Starbucks is committed to the policy of giving back for the welfare of the world has promised to donate US$20 million to social impact community projects in China.


For more interesting stories, Download the
Lopscoop application
from Google play store and earn extra money by sharing it on social media.