In the sweeping economic, demographic, political and social transformations families around the globe are living differently. Families are one of the dominant spaces of gender inequality where voices of women are sniffled. In order to determine the impact of family structure on women a report titled 'Progress of the World's Women 2019-2020' was released by the UN.
In the report, it was indicated that while a mix of couples living with the children is the dominant family structure in India to be exact, 46.7%, still 12.5% are lone parent families, majority of which are headed by women, which means that about 13 million women are 'single mothers. The remaining percentage of the population is those who live with extended families.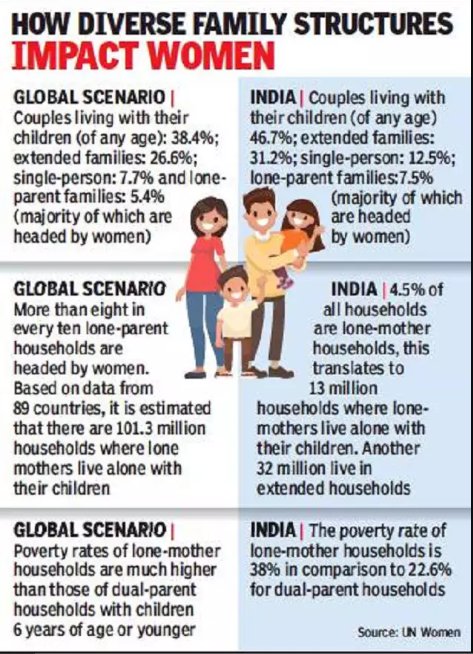 "In India, the poverty rate of lone mother households is 38% in comparison to 22.6% for dual-parent households," it said.
The report further states that while the life expectancy of women was higher than the men globally by 4.6 years, there was stated need to focus on senior women with family-friendly policies, including cash transfers, healthcare and care services.
Here is the global scenario according to "Women Progress 2019' report
• A couple's living with their children- 38.4%
• Extended families- 26.6%
• Single person- 7.7%
• Lone Parent families- 5.4%
• More than 8 in every 10 lone-person households headed by women
• 101.3 million households with lone mother with children
• Poverty rates of lone-mother households are much higher than a dual-parent household.
Thus, according to the reports it came to be known that globally eight out of ten lone parents' households are run by women itself i.e. (84.3%) i.e. 101.3 million households are run by single mothers all over the world.
For more interesting stories, Download the Lopscoop application from Google play store and earn extra money by sharing it on social media.