Almost every Bollywood celebrity has millions of followers on the micro-blogging site Twitter. And their twitter bios are as interesting as they are in real life. Most celebs have simple profile bios, yet many of them have really attractive bios and that are worth-reading.
We have listed top 10 interesting bios of famous celebs that you may have missed out on:
1. Amitabh Bachchan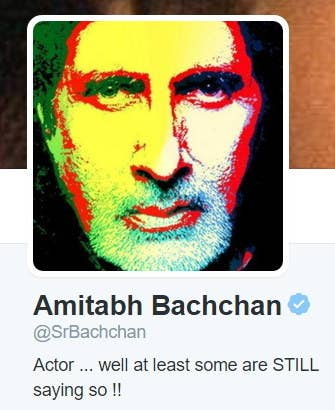 One of the greatest and oldest actors in the industry, Amitabh Bachchan's bio on Twitter reads, "Actor ... well at least some are STILL saying so!!" The well-known actor remains humble all the time and that reflects from the bio.
2. Priyanka Chopra
Global star Priyanka Chopra often replies with wit and humour. The 35-year-old actress has huge fan following and also remains active on the work front all the time. Her Twitter has only two words, "Dreamer.. Achiever."
3. Alia Bhatt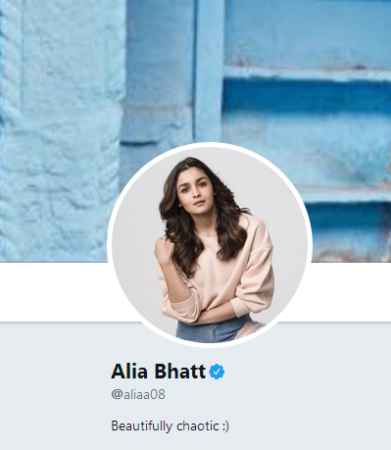 The much talented and young actress Alia Bhatt also known as the cute princess of Bollywood has written just two impactful words in her bio. "Beautifully chaotic," reads her twitter bio.
4. Richa Chadha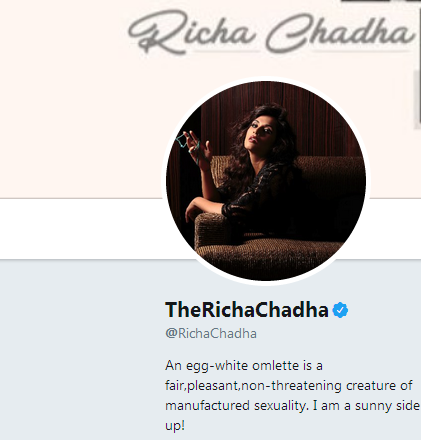 Gangs of Wasseypur actress has a made a good name in the industry. "An egg-white omlette is a fair, pleasant, non-threatening creature of manufactured sexuality. I am a sunny side up!"
5. Taapsee Pannu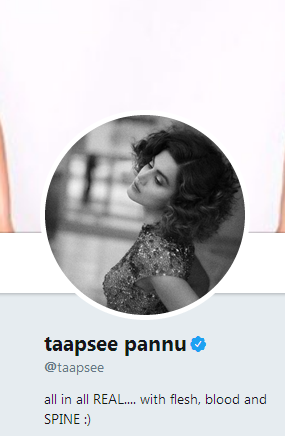 Tapsee Pannu who played a lead role in Pink has a twitter bio somewhat close to her films. "All in all REAL....with flesh, blood and SPINE :)". Pannu is bold enough to speak her heart out on various occasions in front of media.
6. Anushka Sharma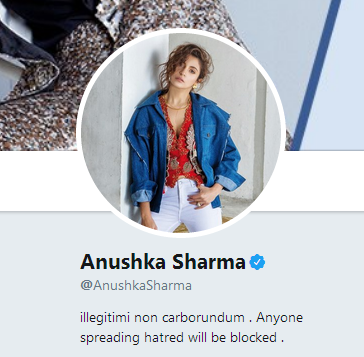 The Twitter profile of Anushka Sharma is unique as she has chosen some Latin words in her bio. "Illegitimi non carborundum," which translated in English "Don't let the bastards grind you down".
7. Hrithik Roshan
Hrithik Roshan needs no introduction when it comes to his acting skills. The actor's energetic lifestyle and positive attitude reflects from his twitter bio reads, "Man on mission- to live the best life possible come what may."
8. Kunal Kapoor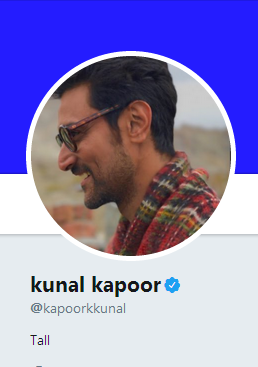 Rang De Basanti actor Kunal Kapoor is such an actor who can fit for any role with ease. Kapoor acting skills is unique in every sense. Kunal's twitter bio is precise and it reads, "Tall". That's it.
9. Arshad Warsi
Actor Arshad Warsi, whose role of 'Circuit' from "Munnabhai" series, became a household name among Indians movie goers is as humourous as his Twitter bio. "Good at cooking, cleaning & impressing kids below 5, when free I try & act in films."
10. Kalki Koechlin
Kalki Koechlin - doesn't believe in shying away from her choices and remains active on micro-blogging site for raising several issues related with women. "This one time abroad I didn't have ID to get into a bar so I told the bouncer 'Google me, I'm famous.' The rest of the time though, I don't feel that important." Kalki Koechlin's Twitter bi stands out.
Stay tuned with Lopscoop for more entertainment news.